---
---
---
We
love
working in the yard!
Gone are the days of googling "mow my lawn" or "lawn service near me". With Lawnhiro, local and dependable providers are ready and waiting to be matched with you.
---
Good Customer Service &
Great Lawn Care
We take pride in the services that we provide and know that you take pride in your lawn. Lawnhiros are hardworking neighbors who love their community and have spare time on their hands. Interested in knowing the price to service your yard? Get your free quote now!
---
An Easy Way To Get Help
The idea of Lawnhiro came from the passion to help people. Whether your lawn is big or small, we are here to help.
---
Every Lawnhiro is Hand Selected
Every Lawnhiro goes through a multi-screening process to select the very best for you.
---
We Mow Every Lawn With Care
Each lawn is different which is why we give special attention to every lawn we service.
---
Satisfaction Guaranteed
We take extra care the first time; guaranteed, or we will make it right.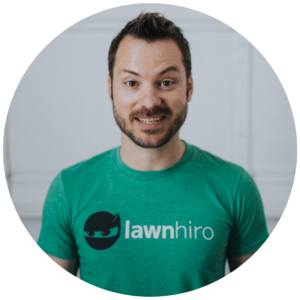 ---
Jake C.
I'm a superhero movie nerd.
Guardians of the Galaxy wins.
Check out these quotes from actual customers!
See why our
customers love us!
---
Rated 5 out of 5 by happy customers
Quickly & Above Satisfaction
"I am currently moving to a different house while my husband is hospitalized with serious medical issues. I needed my yard mowed at the new house but just don't have time for everything. This service responded quickly and the work done is above satisfactory! I'll be using their service again for sure!!"
"My mower broke and my lawn needed to be mowed. I used LawnHiro and the next day someone was out and took care of my lawn. It was too easy!"
"I have a busy work schedule with all my kids sports. I had hardly any time to keep up with my yard. Lawnhiro made it easy to focus on my children rather than my yard. It was a super easy process to fill out a request to mow. Not only was it easy, but they were even able to come out that same day. I will definitely be using Lawnhiro again!"
---
---
We're social!
Lawnhiro is a lawn care platform that has its roots in Lincoln, Nebraska. Since its founding, Lawnhiro has expanded to cover the entire Lincoln and Omaha metros, and is now rapidly expanding across several states in the US. With Lawnhiro, customers can easily schedule lawn care services with local providers, who are carefully vetted to ensure top-notch service.
---
Rated 5 out of 5 by happy customers
---
The Best On-Demand Lawn Care
---
Sit back and relax while Lawnhiro takes care of your lawn.
Our on-demand lawn care services help customers achieve and maintain a beautiful lawn, enhancing the overall look of their property and boosting their home's value and curb appeal.
---
---
---